1. Monocot and dicot leaves contain similar types of dermal, ground, and vascular tissues, but they are arranged differently within each type of leaf.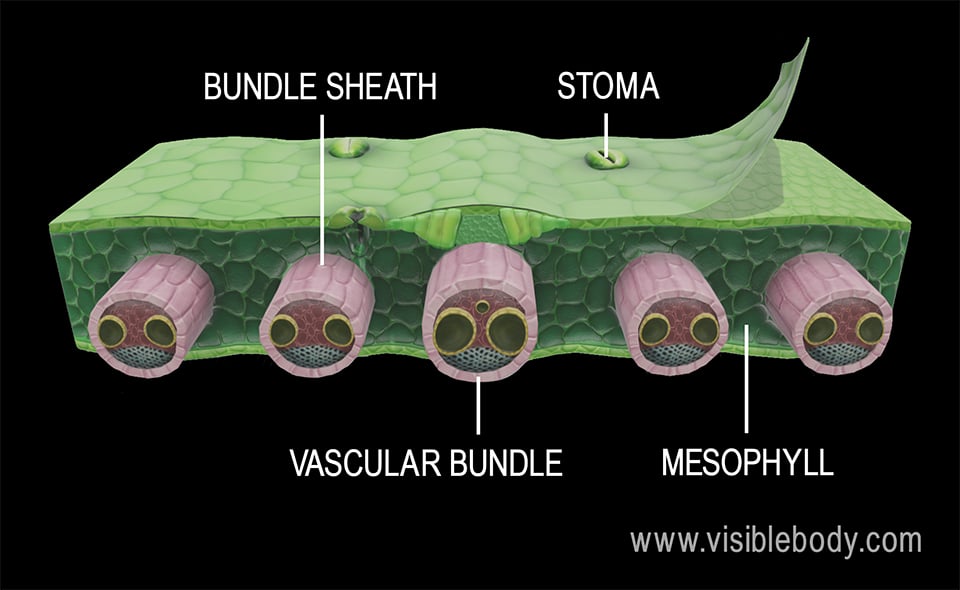 The leaves of flowering plants have an upper and lower surface, with the upper surface generally facing away from the ground and the lower surface facing toward it.
Leaf dermal tissue
Both monocot and dicot leaves have an outer, waxy layer called the cuticle that covers the dermal tissue of the upper and lower epidermis. The cuticle protects the leaf and helps it retain water. The epidermis, which is located beneath the cuticle, also protects the leaf. It plays a key role in gas exchange as well, because it contains pores called stomata. Stomata are also present in the plant's stem and flowers, to some extent, but they are primarily a feature of the leaves.
The stomata allow carbon dioxide to enter the leaf and provide an avenue for water vapor and oxygen to exit the leaf. Each stoma is bordered by two specialized parenchymal cells, called guard cells. These cells open and close the stoma. When the turgor pressure in the guard cells is high, they bend outward, causing the stomatal pore to open. When the turgor pressure in the guard cells is low, due to a loss of water, the stomatal pore is closed.
Leaf ground tissue
A type of ground tissue called mesophyll fills the area between the leaf's upper and lower epidermis. The cells in the mesophyll contain numerous chloroplasts, organelles that carry out photosynthesis, converting light, water, and carbon dioxide into sugar the plant can break down to generate energy. Oxygen is the main byproduct of photosynthesis—which is great for organisms like humans who need oxygen to breathe!
Leaf vascular tissue
In monocot and dicot leaves, vascular bundles are surrounded by one or more layers of parenchyma cells known as bundle sheaths. They protect the "veins" of the leaf. In monocot leaves, the cells of the bundle sheath carry out photosynthesis, but this isn't always the case in dicot leaves.
Both types of vascular tissue have an important role to play in leaves. The xylem brings water and dissolved minerals up from the roots, and the cells in the mesophyll use the water when carrying out photosynthesis. Excess water is expelled through transpiration, the release of water vapor through the stomata. The phloem takes the dissolved sugars created by photosynthesis to the plant's stem and roots to be used or stored.
2. Monocot leaves have stomata on the upper and lower sides of the leaf, and their veins run parallel to one another.